GBP/EUR hits highest level in eight years
With June just around the corner, so is Greece's debt repayment of €1.6 billion to its creditors. With negotiations continuing to stall over the restructuring of its repayments, high levels of volatility have begun to burden the euro, which weakened over 3.5% in May alone.
With talks likely to continue well into June, this volatility will likely offer further opportunities to benefit euro buyers.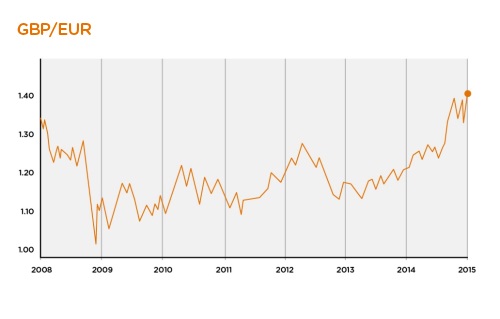 With uncertainty around the euro, make sure you talk to a currency specialist to ensure you get the most out of your money. French Mortgage Xpress has teamed up with Currencies Direct to offer you the best service and the most competitive foreign currency exchange rates available today. With years of experience providing financial solutions, Currencies Direct have developed an innovative range of products and currency transfer services that can help to minimise your foreign exchange risks and take the hassle out of international payments.